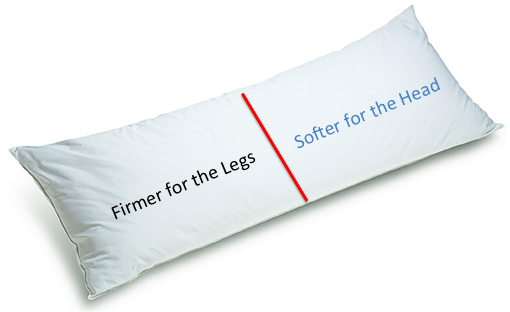 Unlike other bedding essentials, such as a mattress, pillows, cushions, bedsheets, protectors, blankets, body pillows have their importance. They are good at providing you a maximum of comfort and warmth while you sleep. Body pillows can be easily purchased within various materials, sizes, and types in the market. Today the option of Custom Body Pillow is also offered by many-body pillow manufacturers and brands.
Do you know, body pillows inherit ample health benefits? They are suitable for pregnant women, patients with surgery healing, back pain, and anxiety. In this blog, we will be discussing everything about body pillows. Thus, if you plan to buy, you must know certain aspects.
What is Body Pillow?
If you love to have an undisturbed and comfortable sleep, then body pillows are the best options for extra support of fluffiness. These are even cost-efficient cozy solutions for back pain, body aches, muscular stiffness, surgery healing pain, etc. You can buy body pillows as per your comfort needs, budget, size, and quality. Generally, body pillows come in different shapes like I, U, J, C, and more.
The Main Types of Body Pillows Available In The Market:
Here below are the types of body pillows that can be purchased from the market. Pick the body pillow that is on your fullest of requirements in comfort.
The General Overview About Body Pillows:
The standard size of a body pillow is 20 inches by 54 inches. These are even manufactured in a variety of filling materials, shapes, and sizes. Precisely you can even have Custom Body Pillows on demand to have maximum comfort and efficiency on cozy sleep and relief in body pain.
The Different Body Pillow Shapes:
The most commonly picked are rectangular and cylindrical shapes of body pillows. However, you have variations in shapes like U, J, C, etc. Some even come with full-body pillow sizes to give complete body comfort and support. Below are the shapes specifically defined-
1. Rectangular: you can easily get rectangular shape body pillows online and even at bedding stores or shops. They vary in dimension, like 10 inches by 48 inches or 30 inches by 60 inches. Such body pillows are firm and even longer to provide great comfort. As these are quite common, so are affordable options.
2. Cylindrical: These body pillows come in a variety of lengths and sizes. People who have shared beds generally love cylindrical body pillows. Precisely, these are easy and approachable options in the market and comes with different firmness and quality.
3. U-shaped and C-shaped: For pregnant women or during pregnancy, extra support on the bed is a must, so U-shaped body pillows are excellent. They give full-body comfort to the neck, shoulders, legs, back, and more. U-shaped body pillows are even suitable for people with back pain and muscular stiffness on the neck or shoulders.
4. J-shaped: Well, if you are a side sleeper, then J-shaped body pillows are great to get support and comfort. These are designed for complete head-to-toe body relaxation. You can easily hug and curl it up for maximum warmth and quality sleep.
The Different Types Of Fill Materials Used In Body Pillows:
Now let's talk about what is inside your body pillow:
1. Down or Feathers: To have softest and warmest comfort, get body pillows with down or feathers of geese or ducks. You can even search for hypoallergenic down if you have sensitive skin, as these down are non-toxic and are not chemically treated. Down or feathers body pillows can be a bit pricy for comfort one can afford for years.
2. Down or Feather Alternative: If you can not afford real down or feathers or have allergic skin, then get other alternative fills like polyester. These are cheaper and comfortable options instead of down or feathers.
3. Memory Foam: Memory foam is made up of polyurethane that keeps the body soft and ensures great comfort. However, it's chemically-manufactured, so you can easily smell it. Avoid memory foam body pillows if your skin is sensitive and you have allergies. You can look for bio green memory foam, as these are a mix of polyester and bamboo or within the combination of any natural and synthetic fiber together.
4. Latex or Natural Latex: To have soft, bouncy comfort, pick the body pillows with latex or natural latex. These are even more reliable, affordable, and durable options available in the market.
5. Microbeads: These are small (tiny) beads made of polystyrene, a type of plastic. Pillows made up of microbeads are good for patients with surgery recovery, orthopedic pain, pregnancy.
Final Verdict:
No matter if you fail to find the right type of body pillow, Custom Body Pillows' availability is also a trend. Keep your needs of comfort, firmness, budget, shape, size, and material type prior for excellent customization of body pillows. We hope the details mentioned above on body pillows won't let you waste your money without keeping your requirements beyond the variety of options in the market. Make a comfortable and body warming purchase at Diipoo.com. You can even go for high-quality Custom Body Pillows at Diipoo to comfort your body aches and have a quality sleep.