Winnie Mashaba has divorced her 16-year husband. The O Mohau Messiah singer is now managed by Tswako Music and Projects, owned by Makgogo Makgopa's cousin Khaitjadi.
The Amahubo Gospel series host refused to comment on the split this week, citing respect for her in-laws and "potential future in-laws".
He said:
I will never go to the media to discuss our divorce. Even if I can remarry twice or five times, I will never go to the media because I value my existing family. I don't want them to seem bad because I think I've got better... I don't want to draw attention.
"Also, the family I may marry into in the future... I don't want to be known as the wife who publishes her family's affairs. "I value others' feelings," she remarked.
Sources close to the Limpopo-based musician allege the marriage ended due to years of adultery and irreconcilable issues.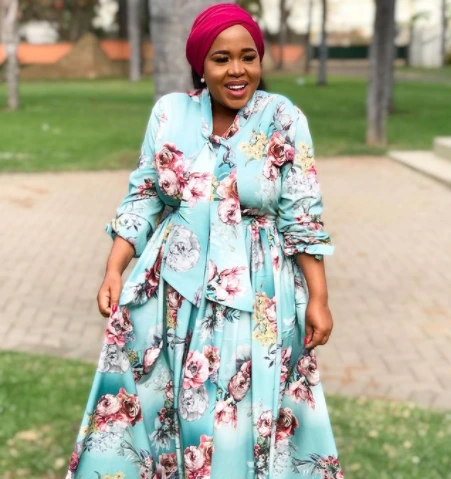 Did SK Khoza and his fiancée split up?
A close friendship between one of her backing singers and her spouse exacerbated the situation last year. "They were quite close and it got concerning when rumours of an affair surfaced," the insider stated.
For reasons that remain unknown, Mashaba filed for divorce in 2017, but did not go through with it.
A source said;
Her [wedding] ring is still on her finger because she doesn't want anyone to doubt her marriage!
They married in 2005 and have no children.
Mashaba's husband, according to another report, was deeply impacted by his wife's closeness to a musician known simply as Khelobedu.
A friend said, "Those two were quite close and you can see it if you google their names." "How can you be comfortable with your wife having an affair with a famous showbiz Casanova who is single?" he asked.
Mashaba denies blaming a bandmate for her divorce.
"I'm still in my band." We're doing well. "No," she said, shaking her head.
No data regarding her personal life from the popular musician:
I like it that way... But for now, we'll keep our lives hidden from them. The fact that I haven't announced my remarriage or separation will keep it discreet.
After two miscarriages, the multi-award winner opened up to Drum magazine in 2019.
"I committed everything to God after two miscarriages," she remarked. According to the artist, "God knows if He grants me kids today, I'll neglect my other responsibilities."
"The only piece I've published is the one I felt I had to share with many ladies regarding my two miscarriages," she told City Press at the time, explaining her decision to publish. Other than that, I can't remember anything else.
In the past, I have been reported dead and mentally ill by the media. So let's just say it's one of those things. You should not listen to everyone. If I have an issue, I will call you
The singer, according to another source, was seeking help for her divorce.
So far, no comment from Makgopa.