Twenty-two people, including an eight-year-old girl, have been killed and 59 were injured in a suicide bombing at Manchester Arena, at the end of a concert by US singer Ariana Grande.

A man set off a homemade bomb in the foyer at 22:33 BST on Monday, in what Theresa May called a "sickening" act.

Armed police have arrested a 23-year-old man in Chorlton, south Manchester, in connection with the attack.

Saffie Rose Roussos was a pupil at Tarleton Primary School, in Lancashire.

Her head teacher, Chris Upton, said she had been "simply a beautiful little girl in every aspect of the word" and was "loved by everyone".

Student Georgina Callander, believed to have been 18, has also been named as among the dead.

She had been studying health and social care at Runshaw College in Leyland, Lancashire.

Sixty ambulances went to Manchester Arena after the attack and the wounded are being treated at eight hospitals around the city.

Among them are 12 children under the age of 16

.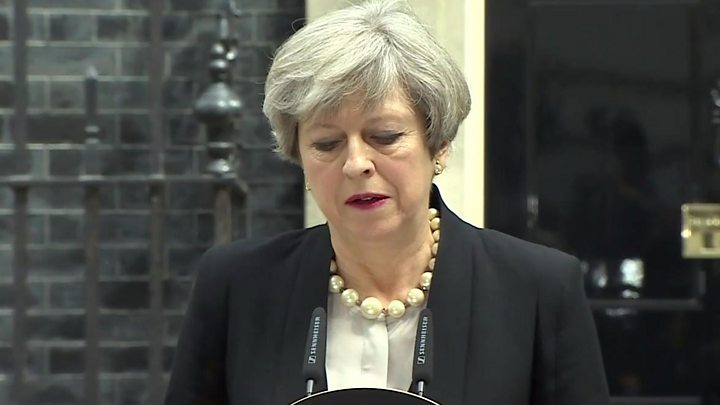 In a statement in Downing Street on Tuesday, the prime minister said it had been a "callous terrorist attack" that targeted "defenceless young people".

She said the security services believe they know the attacker's identity but are not yet able to confirm it.

It is the worst terrorist attack in the UK since the 7 July bombings in 2005, in which 52 people were killed by four suicide bombers.

So-called Islamic State has said - via IS channels on the messaging app Telegram - it was behind the Manchester attack.

The BBC understands the perpetrator was British or from UK.

Greater Manchester Police Chief Constable Ian Hopkins said it was "the most horrific incident" the city had ever faced, and the "fast-moving investigation" was now working to establish whether the attacker "was acting alone or as part of a network".

Officers have carried out raids at two properties, one in Whalley Range and one in Fallowfield, where a controlled explosion was carried out.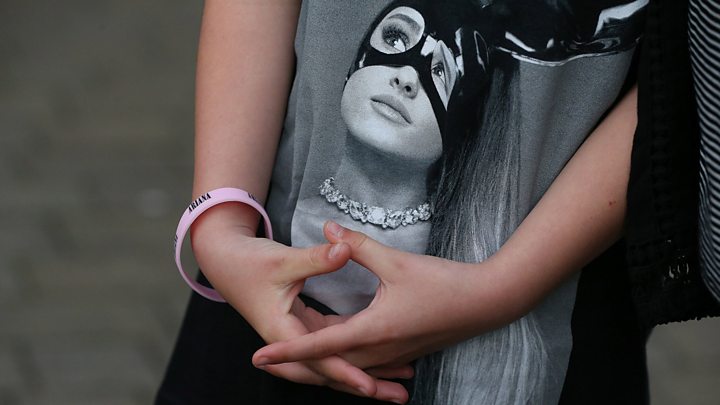 Relatives are using social media to hunt for missing loved ones, and an emergency number - 0800 096 0095 - has been set up.

Flags are flying at half mast outside Number 10 and political parties have suspended general election campaigning.

Theresa May chaired a meeting of the government's emergency Cobra committee and is now visiting Manchester

Sporting events and venues in England are conducting major security reviews and London Mayor Sadiq Khan said the police presence on the capital's streets would be stepped up

World leaders have expressed solidarity with the UK, including US President Donald Trump, who called those behind the attack "evil losers"

Exam boards are telling schools directly affected by the attack that they can re-arrange GCSE and A-level exams in the wake of the attack.

Police have established a help centre at Manchester City's Etihad Stadium, access Gate 11, for anyone who needs assistance in tracing loved ones.

The Queen has extended her "deepest sympathy" to all those affected, while Pope Francis offered "heartfelt solidarity" with the victims and their families

Take That have cancelled a concert in Liverpool on Tuesday night "out of respect"
Witnesses at the arena described seeing metal nuts and bolts among the debris of Monday's bomb, and spoke about the fear and confusion that gripped concert-goers.

Andy Holey, who had gone to pick up his wife and daughter, said: "An explosion went off and it threw me about 30ft from one set of doors to the other set of doors."

Emma Johnson, who went to pick up her children, aged 15 and 17, said: "The whole building shook. There was a blast and then a flash of fire afterwards. There were bodies everywhere."

Teenager Abigail Walker, who was at the concert, told the BBC: "I had to make sure I had my sister. I grabbed hold of her and pulled hard. Everyone was running and crying.

"It was absolutely terrifying."

The explosion happened shortly after Ariana Grande had left the stage and the 23-year-old actress-turned-singer, tweeted: "broken. from the bottom of my heart, i am so so sorry. i don't have words"
.