Groupon has wound down its operations in South Africa and Groupon SA has stopped offering deals in the country.
Also Read:

Groupon South Africa Collapse shuts down stopped offering deals
With more than 115 million subscribers, Groupon is by far the largest of the daily deal sites. But it's hardly the only one worth paying attention to.
Thanks to the daily deal revolution led by Groupon, hundreds of sites have started selling or marketing coupons and deep discounts for local merchants, national businesses, travel, and other products and services.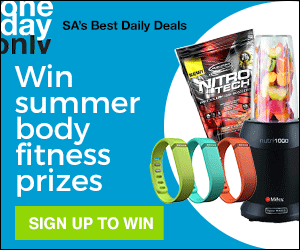 As we analyze the future of group buying, we've assembled a list of 10 solid Groupon alternatives worth knowing.
what's OneDayOnly?
We're your new best friend! We get hold of a product, slash its price and then offer it to you for OneDayOnly. You've got 24 hours to take advantage of our generosity and then the deal is gone forever. Sad, but true.
Not only are we generous but we're also slightly psychic and know that you're about to ask what products we sell. We offer products from a range of electronics, gadgets, cosmetics and sport and lifestyle items at the lowest price you will find in South Africa. And no, we don't care if you bought something similar at the traffic lights for a lower price. That doesn't count and you know it.
Daddy's Deals, offer go-getters a way to enjoy awesome deals at a smidgeon of the price. We scour the planet looking for the very best experiences around, and bring you vouchers on things that will tantalise your senses and more.
takealot.com where extraordinary people come together to do extraordinary things, bringing world-class online shopping to the people of South Africa!
DealZone is South Africa's first coupon aggregation site. We collect all the great daily deals from UbuntuDeal, YouDeal, Dealify, DaddysDeals and many others and show them on one site, making it easier for you to get great deals every day. We then recommend the best deals to you based on the preferences you share with us - so you only get the deals you want!
Welcome to Dealafrica, the number one coupon aggregator website in South-Africa.
What are Group Buying or Social Buying websites?
Every day, dozens of websites in South-Africa offer special discounted deals for products, services and experiences. These include deals for restaurants, spas, clothing, sports and much more. The discounts on these offers range between 50-90%. By selling large quantities, the merchant is able to provide higher discounts - thus the name Group Buying, Social Buying or Collective Buying.
At Catch of the Day we try to source the best deals from around the world and offer them to our customers. We focus on finding companies that are trying to get rid of end-f-range stock, or simply want to leverage our database to quickly introduce a new product to market. We almost exclusivley focus on products(no coupons), which we dispatch from our warehouse in Johannesburg.
ABOUT BULA DEALS
Bula Deals is a simplified and innovative market place with a global vision. We capitalize on both Online and Offline sales, offering the best products and services at the best prices to both our local and international clientele.
Bargain Buys is a division of Ricochet Publishing.
The Ricochet Publishing head office is in Port Elizabeth, South Africa and publishes a number of magazines in addition to Bargain Buys.